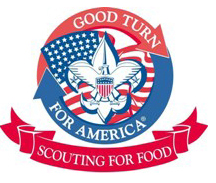 Scouting for Food Planning
It is never too early to start planning for one of the best GOOD TURN FOR AMERICA PROJECTS that the WTAC supports every year- SCOUTING FOR FOOD. This year the door hangers/flyers will be distributed on Saturday, February 5, 2022 and food will be picked up on Saturday, February 12, 2022
Key Dates
The food your unit collects can be taken to a designated pantry and food banks in your district.
Flyer Door Hangers and "Land-Rush"
The WTAC will provide pre-printed door hangers for us to use in our food drive. The flyers will be distributed at the November Roundtable, or coordinate with your District Executive.
Service Hours and Food Totals Collection Form Deadline
We will be utilizing a Tally Form to document the total number or weight of items collected. The Tally Form will be collected at many of the area pantries and collection sites. ALL TALLY FORMS SHOULD BE TURNED IN OR FAXED IN BY MONDAY, February 14, 2022
Each unit is highly encouraged to record their service hours online by visiting www.scouting.org/JTE. Click on the "service hours" website. This is a requirement to earn JTE unit recognitions. Your unit commissioner or district executive can provide the unit code needed to create an account.
Positive Publicity
This Good Turn provides an excellent photo opportunity for your local newspapers, Facebook, etc. Units are highly encouraged to take a group photo of your group either before or after your collection. Most newspapers will publish your photo if you provide the Who, What, Where, and Why with your submission. Always include "For more information about local Scouting, contact the West Tenneessee Area Council at 731.668.3787 or visit www.wtacbsa.org."
Any Questions?
Speak with your district volunteer Scouting for Food coordinator, or your district executive at West Tennessee Area Council, Boy Scouts of America. Or contact WTAC at 731-668-3787