Council Service Center Hours of Operation
March 30-April 30
Monday & Tuesday - 11 am to 5 pm
Wednesday - 9 am to 5 pm
Thursday - 12 noon to 6 pm
Friday - closed
If you require assistance, email Adrian Hackett
(Adrian.Hackett@scouting.org)
From: WTAC Risk Management Committee, and Adrian A Hackett – Scout Executive
TO: All Scouting Leaders and Families
Regarding: West Tennessee Area Council Coronavirus Response
The Risk Management Committee and the Staff of the West Tennessee Area Council have been in constant communication regarding the Coronavirus and how to best keep the overall community as well as the Scouting Community safe. During past events, we have utilized safe handwashing/sanitizing of hands as well as all touchable surfaces, social distancing and individual camping. We have also mandated that anyone that has a fever (in the last 48 hours) or otherwise was not feeling well not attend. It is also suggested to those over the age of 70 consider their heath as paramount in their decision on attending any meetings or events.

This morning, the Governor of Tennessee, Bill Lee announced that all schools in Tennessee close by the end of the week and remain closed until March 31st. In addition, the Center for Disease Control (CDC) recommended that there be no gatherings over 10 people for the next 8 weeks. Due to these announcements, and in the best interest of the community, the Scouting programs of West Tennessee Area Council will do the following:
Council and District programs over 10 people will be postponed until it is safe for the community to resume these programs.
Council and District Meetings/trainings under 10 people we will be encouraged to use teleconferencing where possible. In addition, anyone having any symptoms of illness should not attend, and those over 70 are encouraged to consider your health as paramount.
We are asking that your unit level programs, with consultation of your charter organization, review your schedule and make sure you are following all state and national announcements with Coronavirus. We strongly recommend that you suspend meetings till at least until March 31st.
The Scout office will maintain normal operations to assist our units during this time.
These are unforeseen circumstances in our community and note that we will continue to review the situation and adjust as needed. Please take the time to pray for all those effected and those who will struggle as a result of this pandemic. We ask that you stay informed, help your neighbors and fellow Scouts safely. It would be all too easy for us to become isolated during this time. I ask you to reach out on the phone, social media, etc. and make sure our community has what they need. If we can assist you in any way, please let us now. As the Scouting Family in West Tennessee we should take this opportunity to set the example for our community, Be Prepared and Do a Good Turn Daily.
For additional questions please call the Scout Service Center at 731-668-3787 or contact your local executive. We as a Scouting Community stand ready, to serve our community as we always have. Thank you.
Adrian A Hackett | Scout Executive/CEO
BOY SCOUTS OF AMERICA
West Tennessee Area Council
1995 Hollywood Drive
Jackson, Tennessee 38305
O 731-668-3787 | F 731-668-3788
adrian.hackett@scouting.org
---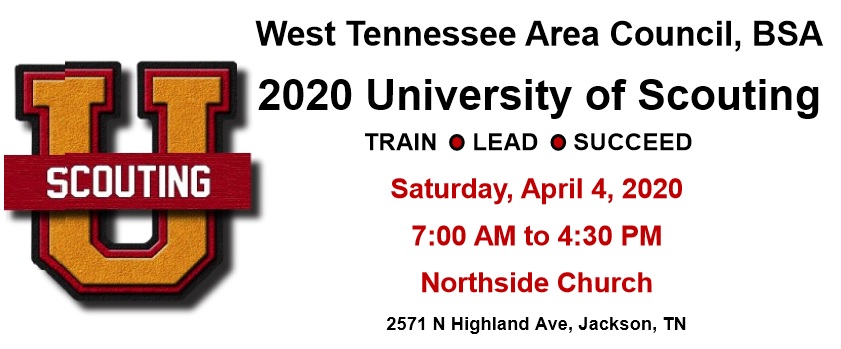 POSTPONED - NEW DATE TBD